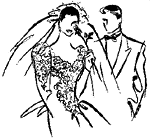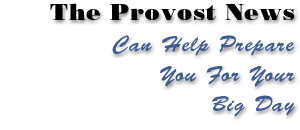 Quality printing and assorted accessories are why people trust The Provost News when it comes to their wedding and anniversary needs. We have been providing professional printing for decades and welcome you to come into our relaxing office to browse the many samples that we have for you to choose from.

Creating perfect invitations to your wedding can be a tedious and exhausting job if you don't have the professional help that The Provost News supplies; not only do we offer our superb printing products, we also offer our friendly expertise.

Let us take some weight off your shoulders and let you focus on getting a ring on your hand.



We take pride in supplying the following:



• Invitations
• Reply Cards
• Thank You Cards
• Candles
• Wine Glasses
• Feather Pens
• Bookmarks
• Napkins
• Matches

• Match Note Pads
• Table Coverings
• Garters
• Cake Tops
• Cake Wrapping Kits
• Guest Books
• Ring Bearer Pillows
• Cake Knives
• Cake/Favour Boxes


A set of gorgeous
wedding bands
could help culminate the wedding,
so you may want to keep
wedding bands
in mind for your wedding plans.

Return To The Provost Directory