Mush!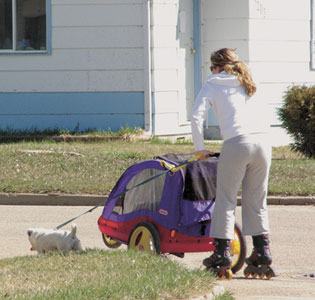 This woman was making the rounds with the help of more than one set of wheels and her faithful dog who didn't seem to mind pulling his—and others' weight while out for a springtime stroll just east of Provost's Main Street. ©Provost News Photo.
---
Estimate Hits $14 Million for Rec. Centre
A variety of estimates coming in for a proposed new multi-use recreation facility for Provost is showing costs of between $10 million and $14 million for construction.

Mayor Ken Knox expressed concern after attending a meeting on Monday night, April 24 when a representative from one firm was present at 6 p.m. in the Alberta Room.

Terry Beardon of Beardon Engineering of Red Deer gave estimates for a conventional style building that would include an arena, swimming pool, racquetball courts, a walking track and some meeting rooms. He estimates about $14 million would be required for that indoor facility—or a basic building with no swimming pool could be put up for $10 million. An outdoor pool could be built for approximately $2 million with the option of enclosing it for another $2 million. It's estimated a building of that type would last 60 years.

Two days later a group of people including Keith Barry of Monolithic Domes Canada Ltd. was present for a Wednesday night presentation about concepts and costs.

Architectural ideas, drawings and suggestions how geo-thermal heating and cooling could be utilized were also discussed at the three hour April 26 meeting.

Drawings showed three levels created in the dome shaped building which the Monolithic Domes Canada Ltd. visitors said would last 500 years. A group of 28 people heard that savings of 50 to 75 percent in energy could be realized because of the egg-shell shape of the building with energy savings also being realized by an energy exchange between an arena and pool.