Girls Just Wanna Have Fun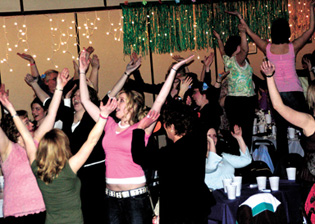 . . . and fun they were having as 275 women packed into the hall in Cadogan on Saturday night. The cause for celebration was "Ladies' Nite Out"—and that meant hardly any men at all on the premises for the annual Cadogan Agricultural Society's fundraising event. Story in March 1 edition of The Provost News. ©Provost News Photo.
---
Low Enrollment Problem at Schools
Low student populations are affecting schools at Amisk, Czar and Hughenden and a meeting is scheduled tonight (March 1) in Czar to discuss the situation, says school trustee Dave Nelson of Metiskow.

People at the meeting will be "trying to figure out options for all schools to keep viable."

The Buffalo Trail Public Schools trustee says population is expected to hold steady for a while but will then drop, according to surveys taken.

The school board is looking for suggestions and options through public feedback at the Wednesday meeting.

At the Czar School there are 19 students. Normally Grades 1-6 are taught but this year there are no Grade 1 students so only Grades 2 through 6 are being taught.

The lowest number of students in Czar School is in Grade 6 where there is one student. The highest number is in Grade 2 where there are six students.
There are two teachers at Czar.

At Amisk School there are 66 students with three full time teachers and two half time (four full time equivalent teachers) for Grades 1-8.