New Physicians Here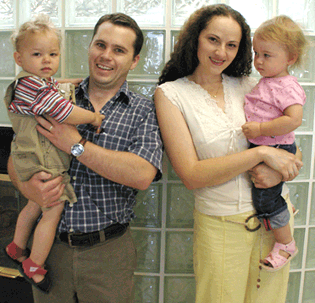 Provost's newest physicians, a man and wife team from South Africa are now in Provost. Left is Dr. Jaco Hoffman shown with his wife Dr. Ebeth, with 20 month old twins Juan-Pierre (far left) and Lize-Marie (far right). They come from Rustenburg and Jaco began work here on July 11. ©Provost News Photo.
---
Provost Out of Police Academy Running
Provost has been taken off of the list of potential sites for a police academy in Alberta that could ultimately serve western Canada.

Those communities left for consideration are Camrose, the County of Red Deer, Lac La Biche and Fort McLeod.

The Town of Provost recently received a letter from the Alberta Solicitor General and Public Security special projects office in Edmonton.

The July 12 letter read in part:

Dear Mayor Knox:

On behalf of the review committee, I would like to take this opportunity to thank the Town of Provost for their submission to be the host site for the Alberta Police and Peace Officer Training Centre.

Over the past number of months, the review committee has been hard at work evaluating each submission on the basis of the criteria identified in the Request for Proposals. From these, the review committee arrived at a total score for each submission.

While the committee has yet to make a final determination, some submissions have been eliminated on the basis of total score. Although the time and effort involved in developing a submission was greatly appreciated by the review committee, after careful evaluation and consideration the submission put forward by the Town of Provost is no longer being considered as the host site for the Police and Peace Officer Training Centre.