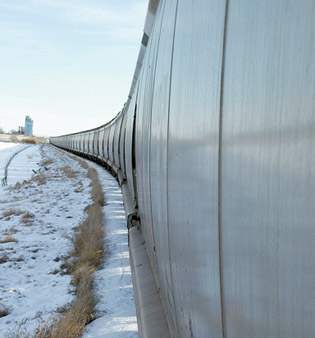 Several hundred potash cars are now being stored on the south Macklin CP Rail line stretching from Denzil to Salvador. This picture shows only one segment of 100 Canpotex railway cars just east of Denzil and 50 kms from Provost that a CP crew recently placed there. The cars will be idle until they are needed in the market place. Canpotex, the world's largest exporter of potash, is owned by producers Agrium Inc., The Mosaic Company and Potash Corporation of Saskatchewan Inc. Canpotex markets Saskatchewan potash to countries in Asia, Latin America and Oceania and has corporate offices in Singapore, Hong Kong, Tokyo, Saskatoon and Vancouver. Another rail line splits near Macklin and goods going through Provost by rail are routed on the north line towards Wilkie and beyond. ©Provost News Photo.
More in February 1 edition of The Provost News.
Want to Subscribe to The Provost News? Click here.
---
CP Rail Staying on Track Here With Up to 10 Trains Daily
A spokesman for Canadian Pacific Railway says "there are no plans to discontinue the CP Rail line through Provost."

Ed Greenberg told The Provost News in a telephone interview from CPR headquarters in his Calgary office that he has never heard of such a plan to take out the tracks. The News has been told over the last couple of years by some residents that plans were being made by the railway company to close down the line.

A local CP Rail employee doing maintenance on tracks in Provost said in December that he had heard similar rumours of closure but they were not accurate.

Greenberg says CP Rail does evaluate viability of tracks throughout its Canadian and U.S. lines on a regular basis and to study future trends.
During each 24 hour period there are an average of six to 10 trains passing through Provost on their way to connect to centres in both Saskatoon and the main CP line that connects to Edmonton and Calgary. Each train through here averages 5,000 to 6,000 feet long.

The Provost line is part of the "secondary main line" that typically carries grain, potash, industrial products, steel, pipe and petrochemical and agricultural products.

There are between 25 and 30 employees who look after the section of track for CP Rail from Unity, Sask. to Hardisty.

Canadian Pacific Railway no longer operates a regular scheduled passenger service but runs the Royal Canadian Pacific, a luxury passenger train that operates in Western Canada. In April, 2005 two 1950s era diesel locomotives pulled nine passenger cars of the special Royal Canadian Pacific train that rolled through Provost on a nostalgic trip that had originated in Calgary (see PN April 27).

Both the Soo Line and the D&H Railway are wholly owned subsidiaries of the Canadian Pacific Railway. The D&H, which links Montreal to the Eastern United States was purchased in 1991. The Soo Line, which runs in the U.S. Midwest, was purchased in 1990.