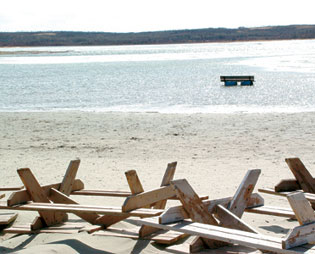 The water level is up at Dilberry Lake Provincial Park as this photo shows a bench, now parked way out in the water. Ice still shows in this picture taken on Sunday afternoon, April 16. Soon boaters and brave swimmers will be back on and in the cool waters this spring. ©Provost News Photo.
---
Man Spent $67,000 Smoking Crack in First Year
'My using friends were liars, cheats and thieves. I was learning how to die, not live from them'
In an effort for the public to better understand certain illegal and mind-altering street drugs The Provost News is presenting the second of a three part newspaper interview series.

This testimonial describes in detail what it was like for a young man to suffer the consequences of smoking crack cocaine—and the turn-around in his life that he is now experiencing.

He requested that his real name not be used so a pseudonym (substitute name) is being used.

"Lyle" talks about the first time he used crack cocaine, how one of his friends died from it and other upheavals in his life. The recovering man who in his youth played junior hockey and other very competitive sports "never ever dreamed that there was a chance I would become an addict."

This is his story about smoking crack cocaine that delivers large quantities of the drug to the lungs, producing an immediate and intense euphoric effect.