Dances With Danger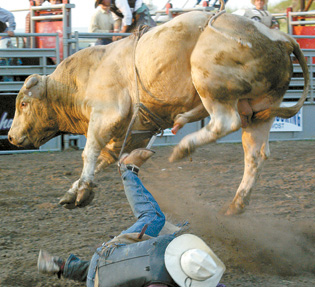 Bull riding is called the most dangerous sport in the world—and here's why. Tyler Thompson of Black Diamond, Alta. gets a taste of Cadogan hospitality Friday night at the bullarama and finds a split second after he is thrown that his spur is dug deep into the rope, quickly discovering why sometimes this type of living can be a drag. To see how things ended, click here for more pictures. More pictures in this week's paper. ©Provost News Photo. Want to Subscribe to The Provost News? Click here.
---
Drought Detective Studies Tree Rings, Pollen Samples
A paleoenvironmentalist from the Provincial Museum of Alberta was in Provost on Friday night explaining her extensive drought studies and findings of Alberta's past at a variety of stages, dating back 10,000 years.

Dr. Alwynne Beaudoin was brought to the Recreation and Culture Centre on July 16 by the Bodo Archaelogical Society and was introduced by Dr. Terry Gibson, who is heading a dig at Bodo.

In her hour-long talk, Beaudoin told about 35 people that "drought is not a simple thing" and says that she looks at slices of time by examining tree rings and cores of mud samples from lake beds.
The tree rings of certain kinds of evergreens—mainly pine and spruce—allow scientists like herself to find out, by counting and measuring the width of the rings what the moisture content was at particular times.

Beaudoin and her team have been studying trees from the Porcupine Hills near Pincher Creek which show the 1990s drought was more intense than the 1920s. She noted that droughts from the 1600s and 1700s were also intense and over the last 500 years there have been droughts more severe than Alberta has recently experienced.

She and her team goes out in the winter and looks for mud from across the bottom of lakes, taking core samples. "It's like little time capsules." She examines pollen trapped in those samples to see how vegetation changes over the years. Other conditions in the lake are also examined in detail through a microscope.

In addition to the pollen and tree ring records, evidence of drought is looked for by instrument methods (such as modern written records; but they go back only about 120 years).

A drought on the Prairies in the 1790s, she said activated huge sand dunes (see photos elsewhere in this paper) by blowing. It was suggested that the Bodo sand dunes where current archaeological digs are underway with U of A students may be related to the early drought of the 1790s—and not of the 1920s.