Straight Shooters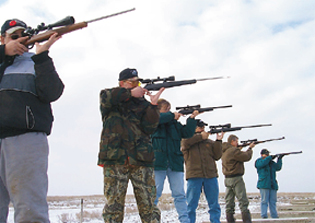 It was a cool Sunday morning and afternoon November 2 as these shooters showed fine form lining up their sights on targets hundreds of yards away. The noisy action was held at the Provost and District Fish and Game Association's north range. The range was established nearly 30 years ago by Clinton Grant who was a former hospital administrator. ©Provost News Photo. More photos in November 5 edition of The Provost News.
Want to Subscribe to The Provost News? Click here.
Beef Producers at Czar Meeting Vote to
Increase Trade, Marketing Efforts
Submitted by Terry Lee Degenhardt
Zone 4 delegates of Alberta Beef Producers (ABP) hosted their fall meeting for this area at the Czar Hall on October 28.

Zone 4 includes the M.D.s of Wainwright and Provost, and the County of Flagstaff and Paintearth, as well as some of the special areas. The fall producer meetings give the ABP delegates and director a chance to report back to producers on the organization's activities over the year, present a financial statement and budget, and to hear resolutions, opinions and comments from producers.

Fall meetings are also the time when producers elect their delegates to the ABP. Zone 4 has five people running for four positions.

Election results will not be available for some time since this was the first of four meetings in this zone.

Candidates each spoke briefly. All expressed considerable experience in the cattle industry and a desire to assist the industry back to good health after the disastrous blow dealt by bovine spongiform encephalopathy (BSE). Delegates expressed their thanks to the consumers of Canada for sticking by the industry this summer and eating 62 percent more beef than last year. Canada is the only country in the world to have reported BSE and not lost massive consumer support.
Producers voted in favour of increasing the check-off from $2/ head to $3/head. The extra money will go toward enhanced lobbying in Ottawa and Washington, pro-active trade negotiations, and increasing marketing opportunities both domestically and for export.

ABP has seen some re-structuring in the past few years, and that re-structuring will continue. Currently the industry side of the cattle business (e.g. auction markets) have two non-voting representatives on the board of directors. Delegates at the Czar meeting voted in favour of having those two representatives be granted voting privileges.

David Moss, chief operating officer of Livestock Identification Services (LIS) gave a very interesting presentation. LIS is a non-profit organization owned by producers. It does much more than brand inspection, (for instance it administers the Stray Animal Act, which sometimes means even roping emus), but it provides the most cost effective brand inspection in North America. LIS has a new initiative in place for improved communication within and between industry components. Electronic identification will replace the current CCIA tags in 2005. Tests are being conducted to determine the best way to do that – tag durability, ease of reading, ease of application and so on. Moss could not divulge the expected cost of the electronic identification, but said it would be at a competitive price to what producers now pay for CCIA tags.

When asked whether every animal going to slaughter must wear a tag, Moss's response was that it gives confidence to foreign delegations inspecting Canadian packing plants to see that in fact every animal can be traced.

Full story and picture in November 5 edition of The Provost News.
Want to Subscribe to The Provost News? Click here.