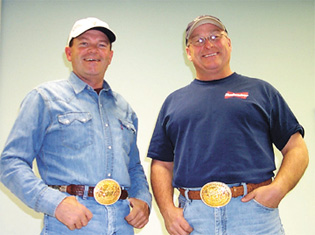 World Champions Rob Tennant (left) with teammate Len Lawes and gold buckles. ©Provost News Photos.
More photos in November 19 edition of The Provost News.
Want to Subscribe to The Provost News? Click here.
Cowboys Rope Senior World Championship
Local cowboys Lenny Lawes and Rob Tennant are the new world champions in the 40 to 49 year old category of the National Senior Pro Rodeo Association's team roping event, just held in the United States.

The international win was earned November 4 to 9 in Reno, Nevada, and was open to anyone in the world who qualified.

The is the first time that event has ever been won by Canadians, "So we kind of hurt the American's pride this year" says Tennant, who with Lawes was interviewed by The News about their win.

There were 15 different events with around 30 cowboys competing in each of those events at the Event Centre in Reno.

The pair competed in 47 rodeos since last January including at Texas, Nevada, Washington, Wyoming and about 15 rodeos in Canada. Most cowboys would normally take in 25 to 30 rodeos a year.

They had to build up points over the season to qualify for this event—and they did just that, landing in first place leading the world, before the final event points out Lawes.
"It feels good . . it's a good feeling" says 47 year old Lawes of the championship title. Tennant, who is 45 years old says "It was hard to believe. It took the finals to realize what we'd won."

They had a feeling that they could do well at the end of the season when they "won big" in Texas so they decided to go all out, practicing hard two or three times a week when they were on the road and up to four times a week when they were both home on the range.

The pair often travelled with two other competitors and put a lot of miles on vehicles, pulling horses in trailers—but sometimes they would fly to different rodeos for their team roping events.

The men teamed up to compete in this association event two years ago but both of them have been involved in rodeo events since 1980.

Each cowboy brought home first place belt buckles studded with four diamonds and valued at $1,000 American each. They will also each receive a $2500 trophy saddle. For cash winning, the pair would only say that they earned enough to pay their expenses—which could add up because they were away from their homes north west of Provost and north of Cadogan for up to 18 days at a stretch.

Presentations were made at a banquet in Reno.

Neither of them have ever won anything so big before.

Tennant and Lawes are not retiring but are not sure if they will go as hard the next season as the one they just successfully wrapped up.

The toughest competitors at the world championship, they say were some from Nebraska and Arizona. But they weren't tough enough for these Canadians.

Full story and pictures in November 19 edition of The Provost News.
Want to Subscribe to The Provost News? Click here.